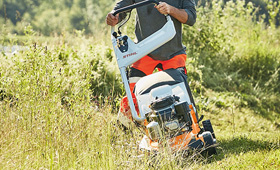 Petrol lawn mower for professional use
The 7 Series lawn mower is a reliable partner when it comes to professional lawn care. The robust construction, powerful engines and a high degree of functionality and ergonomics are the exceptional properties which enable it to be used wherever it is needed. For example, for lawn care in local authority areas, parks, swimming pools and leisure centres, on playgrounds or along roadways. In daily practice, the 7 Series lawn mower demonstrate why it belongs in the professional class. Virtually no other lawn mower offers more in terms of performance, robustness and ergonomics.
Deviations from the product range and information provided here are possible, depending on the country. STIHL reserves the right to make changes to technical specifications and equipment.