Sharpening set 3/8" Hexa
Optimal sharpening of the Hexa cutting system
General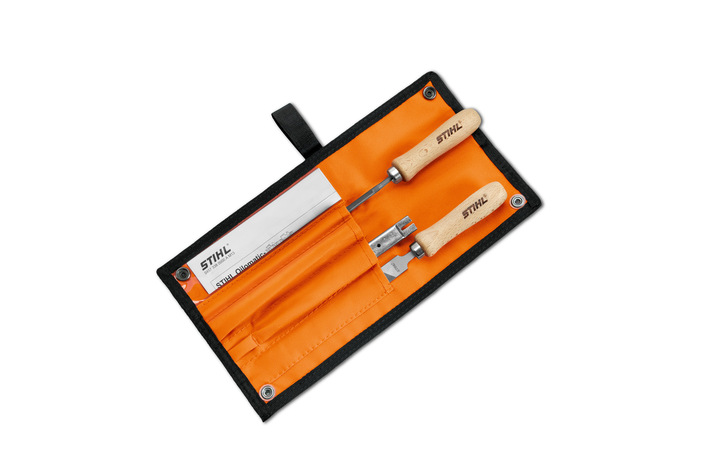 By performing regular maintenance on the cutting attachment with the STIHL Hexa sharpening set, professional forestry workers and agricultural professionals in particular can ensure that the STIHL 3/8" Rapid Hexa saw chain is always perfectly sharp for their work. Frequent use with a STIHL chainsaw such as the STIHL MS 462 will cause the Hexa saw chain to lose cutting performance and become blunt.
The STIHL Hexa sharpening set lets you sharpen your saw chain with precision. The hexagonal shape of the Hexa file and the cutting teeth of the Hexa saw chain are perfectly matched so that you can achieve the ideal sharpening angle in a simple and quick sharpening process. The STIHL Hexa saw chain saws more quickly and stays sharp for significantly longer.
The STIHL Hexa sharpening set contains the following components:
The Hexa file with wooden file handle. This allows you to comfortably and easily guide the Hexa file during the sharpening process.
A filing gauge, with which you can check the cutting and sharpening angles, tooth lengths and the depth gauge height. You can also use this to clean the groove and the oil inlet hole of the guide rail.
A flat file with wooden file handle for readjusting the depth gauge.
The STIHL Hexa sharpening set comes in a sturdy bag with a practical belt loop, so you have all the components you need to maintain your Hexa saw chain right at hand.
Versions


Deviations from the product range and information provided here are possible, depending on the country. STIHL reserves the right to make changes to technical specifications and equipment.
Documents
Owners manuals and safety brochures
| Languages | Date | Link |
| --- | --- | --- |
| International | 09.07.2021 | |