Care & Clean Kit FS
FS care & clean kit: Cleaning and care for brushcutters, lawn trimmers and clearing saws
General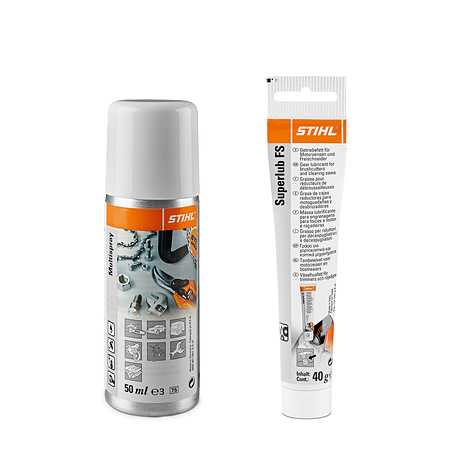 With the STIHL FS care & clean kit, you can clean and maintain your STIHL grass trimmers, brushcutters and clearing saws quickly and easily. This ensures a long service life for your brushcutters. In the STIHL FS care & clean kit value pack, you have the right cleaning agents and maintenance products combined in a single package.
This allows you to remove contamination from your equipment and preserve it for storage. You should also lubricate the gearbox regularly to minimise wear. We advise you to wear work or protective gloves when cleaning and maintaining your brushcutter or grass trimmer.
If you would like to try out our maintenance products for your STIHL grass trimmer, brushcutter or clearing saw first, then it's best to choose our sample pack. This contains 50 ml Multispray and 40 g Superlub FS.
The translucent, odour-neutral STIHL Multispray has a double effect. On the one hand, it is a specially developed multi-purpose oil with good lubrication. On the other hand, it dissolves adhering dirt and stuck particles. This spray allows you to clean and care for your equipment all at once. It leaves a non-curing protective film.
The STIHL Superlub FS high-performance gear grease is optimally matched to all high-speed gearboxes of STIHL grass trimmers, brushcutters and clearing saws. Thanks to its excellent adhesion, it permanently protects and lubricates even exposed parts of the gears. When used regularly, it ensures low wear.
Versions


Deviations from the product range and information provided here are possible, depending on the country. STIHL reserves the right to make changes to technical specifications and equipment.