CB 50 universal cleaner
General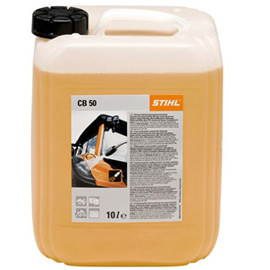 For professional use and all hard surfaces, but not textiles. Removes a wide variety of grimy deposits, such as emission accumulation, grime, dust, light oil and grease stains, pH value 1 % solution: 8.2. 10 L.
Contents compliant with Detergent Ordinance:
AQUA, TRISODIUM NTA, TRIDECETH -9, SODIUM CUMENE SULPHONATE, PARFÜM, METHYLISOTHIAZOLINONE, BENZISOTHIAZOLINONE, FARBSTOFF.
Weitere Informationen (http://ec.europa.eu/consumers/cosmetics/cosing/)
Über diesen Link werden Tabellen mit der Entsprechung zwischen den INCI - Bezeichnungen, den Bezeichnungen des Europäischen Arzneibuches und den CAS - Nummern bereit gestellt.

Versions


Deviations from the product range and information provided here are possible, depending on the country. STIHL reserves the right to make changes to technical specifications and equipment.